18 Critical Care Hospital Facilities To be Funded by Dialog Axiata
As part of its ongoing commitment to empower the national health care efforts during the pandemic, Dialog Axiata PLC, Sri Lanka's premier connectivity provider, pledged to enhance urgently required critical care infrastructure in 18 hospitals selected by the Ministry of Health (MOH). This initiative follows the investment by Dialog in 2020 towards the development of advanced Intensive Care Units at the Homagama Base Hospital and the Negombo District Hospital.
Through this initiative, the High Dependency Unit (HDU) capacity at the Anuradhapura Teaching Hospital will be enhanced with the addition of 7 HDU beds and state-of-the-art equipment. The Eheliyagoda Base Hospital, which currently does not have HDU facilities and treats over 150,000 patients in the OPD and 20,000 indoor patients a year, will be equipped with an HDU facility. Puttalam Base Hospital, serving a population of over 400,000 with only one Continuous Positive Airway Pressure (CPAP) machine – required for treating a variety of diseases and conditions affecting the respiratory system – will receive a life-saving CPAP machine under this commitment. Additionally, state-of-the-art equipment will be facilitated to the Rajagiriya Treatment Center, Ragama Teaching Hospital, Puttalam Base Hospital, and Kalubowila Teaching Hospital. Furthermore, 12 more hospitals and COVID-19 treatment centres selected by the MOH covering all provinces will be facilitated with fully-automatic 10L Oxygen Concentrators, used to treat critical COVID-19 and other respiratory cases, complete with in-built plants to produce Oxygen and fill the cylinders.
Speaking on the occasion, Hon. Pavithra Wanniarachchi, Minister of Health said, "Amidst the global pandemic and with the country facing a national crisis, Dialog has been a constant supportive presence in our national efforts to combat COVID-19, and has now once again stepped up to extend their support by making a generous contribution at our greatest hour of need. We are truly grateful to Dialog for furthering our nation's critical care infrastructure enhancement efforts through this initiative."
Commenting, Supun Weerasinghe, Group Chief Executive of Dialog Axiata PLC said, "We are grateful to the Government and the Ministry of Health for their collective efforts in mitigating the pandemic, and to all those working tirelessly on the frontline to care for those affected by COVID-19. We are pleased to pledge additional funds towards the critical care infrastructure enhancement of hospitals designated by the MOH as part of our ongoing commitment to support the national COVID-19 mitigation endeavours. We are thankful to our customers for enabling this initiative and giving us the strength to help our country during these challenging times."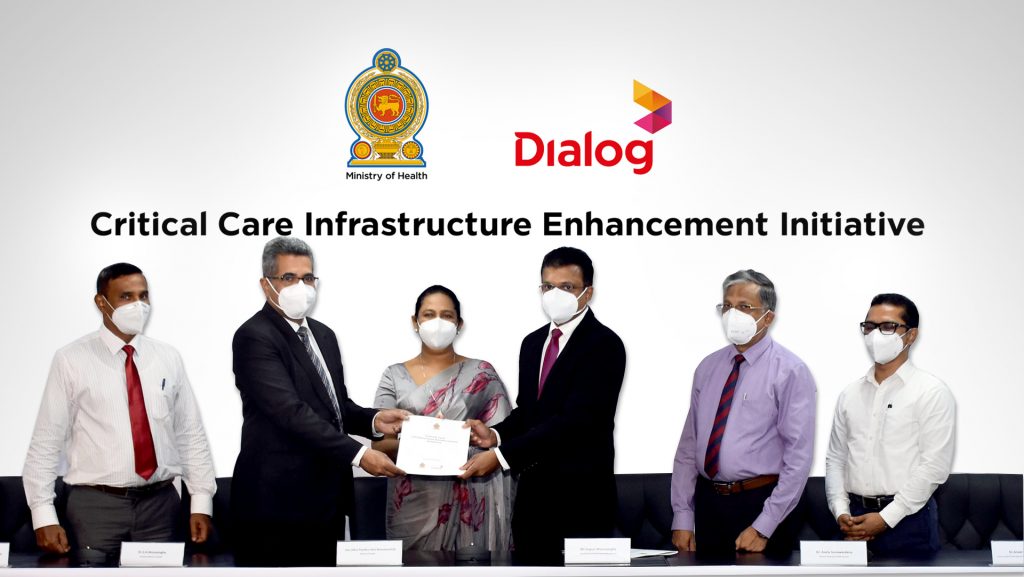 Posted on August 24, 2021