Dialog Axiata Pledges Rs. 200 Million for ICU Development
Dialog Axiata PLC, Sri Lanka's premier connectivity provider, pledged Rs. 200 Million for urgently required ICU capacity development in hospitals selected by the Ministry of Health (MOH). This will be utilised for expanding healthcare systems to provide critical care services and provide accessibility to intensive care for patients.
There is an ever-increasing requirement to expand the national intensive care capacities representing the highest level of patient care and treatment. Dialog Axiata pledged Rs. 200 million towards augmenting intensive care facilities, providing state-of-the-art medical equipment, and enhancing ICU capacity in Sri Lanka that would not only serve to treat COVID-19 but will also continue to support all other patients who require intensive care treatment, post COVID pandemic.
Commenting, Hon. Pavithra Wanniarachchi, Minister of Health and Indigenous Medical Services said, "We would like to extend our sincere gratitude to Dialog Axiata, for pledging this mammoth amount towards this national cause. Dialog has long been a consistent supporter and enabler in national development, especially at times when the country's needs are at its greatest. We hope this donation by Dialog sets a precedent for corporate Sri Lanka to rise to the occasion and support us in our national healthcare efforts."
Bhadrani Jayawardena – Secretary, Ministry of Health and Indigenous Medical Services said, "From the large portfolio of Government mandated projects to eliminate COVID-19 from the country, the Hon. Health Minister Pavithra Wanniarachchi has received the support of many leading companies in the country. Among the sponsorships received, Dialog's effort extended towards the Ministry to facilitate and renovate the Intensive Care Units is vital support given to the hospitals' infrastructure to not only fight the COVID-19 infection but also the other complications that patients are admitted with. We are filled with gratitude to Dialog for continuously coming to our aid when the need arises."
Commenting, Dr. Sunil De Alwis – Additional Secretary (Medical Services) Ministry of Health and Indigenous Medical Services said, "We are extremely grateful to Dialog for this donation. Dialog rose to the occasion in our urgent request to help support the further development of the Intensive Care Units and specialized treatment centres. As they help us develop these units, we must not only look into these projects as solutions for the current COVID-19 crisis but also, look into the fact that this will be an investment for future generations in the Health Care industry. Additionally, we called attention to the prevalent gaps in the Health Care system. Dialog, answered its call of duty to facilitate bridging these gaps and we are extremely grateful to the company. Going forward we hope to work together with Dialog to strengthen this existing partnership with the Ministry of Health."
Dr. Anil Jasinghe, Director General of Health Services, Ministry of Health and Indigenous Medical Services said, "In the face of this ongoing COVID-19 crisis, we greatly value this donation towards the Ministry of Health by Dialog Axiata, one of the most reputed companies in the country. As the ICUs that will be developed through this initiative can be utilised in the long-term, this will not only support to treat COVID-19, but will also advance the country's critical care capacities to a higher level. Therefore, I would like to extend my sincere gratitude to Dialog on behalf of the Hon. Minister and the entire staff of Ministry of Health."
Supun Weerasinghe, Group Chief Executive of Dialog Axiata PLC said, "We are immensely grateful to the Government for their wide-scale efforts in mitigating the adverse effects of the COVID-19 outbreak and to all those in the frontlines, willing to sacrifice their own safety and wellbeing during this unprecedented time to forge ahead and get Sri Lanka to overcome this pandemic. To support this national effort and help relieve the impact on our communities at their greatest hour of need, Dialog Axiata pledged this amount of Rs. 200 Million towards the development of ICUs that are urgently required by the Ministry of Health. We are thankful to over 15 million of our customers for enabling this initiative and giving us the strength to help Sri Lanka through this crisis."
Charitha Ratwatte, Head of Group Sustainability, Dialog Axiata PLC said, "During the ongoing COVID-19 crisis Dialog has had the opportunity at several points to support the forces as well as the Ministry of Health particularly with our strengths which have been in technology. However, today we have undertaken a long-term task where we are working with the Ministry of Health to increase its intensive care capacity which, while crucial during the current COVID-19 period, will also be of great value in the long term for patients requiring intensive care for many critical conditions long after we overcome this crisis together as a nation."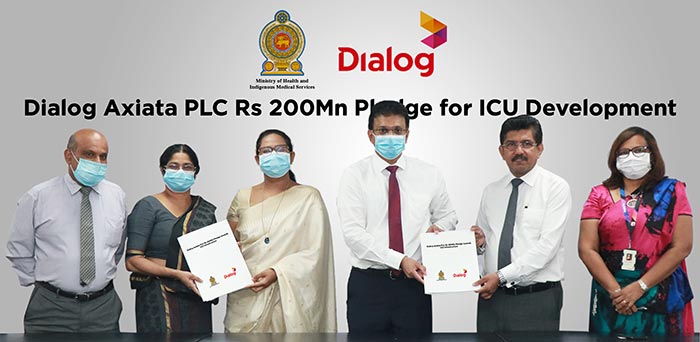 Posted on April 30, 2020