The Nenasa TV distance education bridge is a Public-Private-Partnership between the State Ministry of Education Reforms, Open Universities and Distance Learning Promotion and the largest one of its kind in the country's education landscape. The initiative was launched in 2008 with the intention of supporting the students preparing for the General Certificate of Education (G.C.E.) Ordinary Level (O/L) examination through a dedicated satellite TV channel beamed free of charge to schools across the island.
In 2009, 1,000 schools were added to the programme with Television sets and Dialog Television connections given to all schools free of charge by Dialog. In 2013, with Dialog's funding, a further 1,000 schools were transformed to Nenasa Connected Schools. World Vision also joined hands with Dialog to provide Television sets to more schools. As of 2021, over 2150 schools were part of the programme and having dedicated Nenasa classroom/lab setup where students can watch the Nenasa Channels. 
In 2021, the long standing Nenasa MoU between the Ministry of Education and Dialog was extended for another 5 years with plans to seek possible ways to enhance Dialog's contribution to the initiative, thus making it a fully-fledged education ecosystem. This includes the addition of 1,000 more TVs to the list of Nenasa-connected schools and the expansion of the Nenasa TV operation to include 8 more channels, bringing the total number of TV channels to 10 by 2022.
While the content aired on each channel is provided and strictly monitored by the State Ministry of Education Reforms, Open Universities and Distance Learning Promotion and the Ministry of Education, the partnership with Dialog enables the programme to be promoted to a wider audience, not only through the school outreach programme but also by making all Nenasa Channels freely available to the entire Dialog Television subscriber base exceeding 1.7 million. As of 2021, the "Gurugedara" educational content produced by the National Institute of Education is broadcast on 6 Nenasa TV channels, namely Nenasa Junior – Tamil (123), Nenasa Junior – Sinhala (122), Nenasa O/L – Tamil (125), Nenasa O/L – Sinhala (124), Nenasa A/L – Tamil (127) and Nenasa A/L – Sinhala (126).
Nenasa TV timetables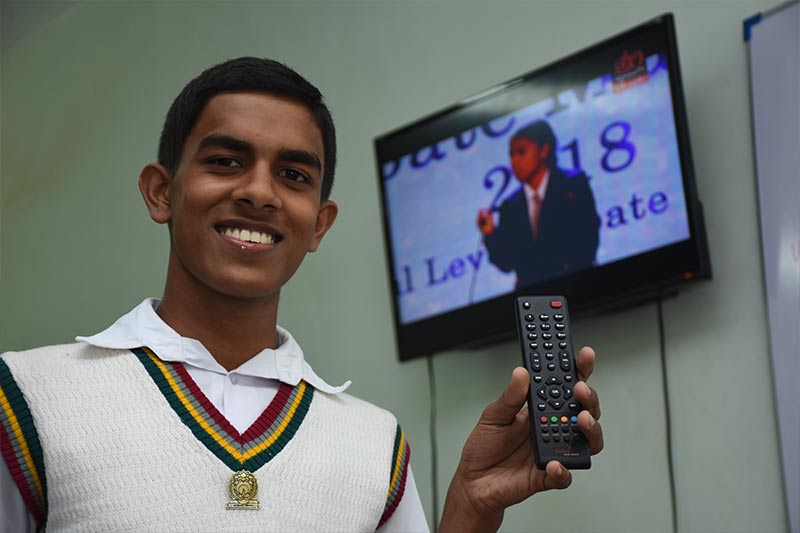 Posted on February 20, 2019