Dialog Merit Scholarships
Established in 2003, the Dialog Merit Scholarship programme provides financial assistance to high performers at the General Certificate of Education (G.C.E.) Ordinary Level (O/L) and the G.C.E. Advanced Level (A/L) examinations each year. With the aim of encouraging these students pursue their higher education, the scholarship scheme has assisted over 900 talented students since its inauguration through a commitment in excess of Rs. 110 million.
The 30 top-performing students at the O/L examination – made up of the 5 top-performing students in the country, as well as the top-performing student from each of the 25 districts – are financially supported with Rs. 2,500 monthly bursaries for the two years leading up to their A/L examination. The parallel group of top performers in the Physical Science stream at the A/L examination – including the best-performing student in the country, the best performing female student in the country and the top-performing students from each district – are provided Rs. 4,000 monthly bursaries during their undergraduate studies, up to a maximum of 4 years. The O/L scheme's beneficiaries are selected each year according to the criteria set out in the Dialog Merit Scholarship MoUs between the Ministry of Education and Dialog Axiata, with the selection of eligible A/L candidates managed by the University Grants Commission (UGC).
In 2020, following a series of discussions, all parties agreed to further simplify the selection criteria of both groups, while addressing certain challenges that caused delays in student selection and disbursement procedures in the past. The most significant change in the O/L scholarship scheme is the omission of the requirement for a student to select the Physical Science Stream for his/her A/L studies in order to be eligible. Similarly, the criteria for A/L scholarships lifted restrictions on the students' undergraduate degree programme selection. Furthermore, several measures were taken to further enhance the operational efficiency and transparency of the scholarship schemes.
Further to the financial assistance provided, Dialog also provides these beneficiaries with soft-skills and other capacity building trainings to help them become professionals who would add value to the society.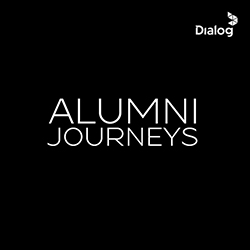 Alumni Journeys is a collection of success stories from around the country – outlining the trials, tribulations and triumphs of Dialog Merit Scholars. The book aims to celebrate their achievements and showcase their journeys towards excellence, while inspiring future generations.
Posted on February 20, 2019