Dialog Foundation and Shangri-La Help Revive the Dreams of Children Affected by Tragic Events of Kochchikade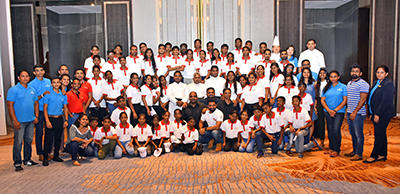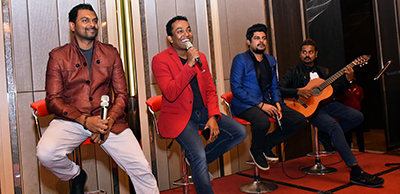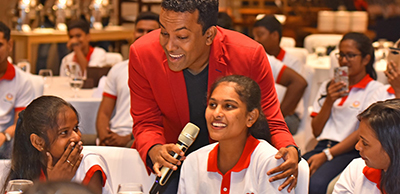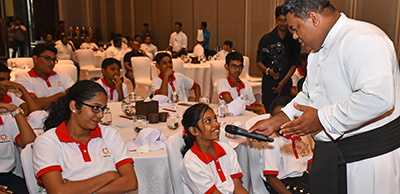 In an effort to inspire and revive the dreams of the children affected by the tragic incidents in Kochchikade which occurred on Easter Sunday, Rally to Care initiative by Dialog Foundation and the Shangri-La Hotel, Colombo launched a unique programme, where more than 70 affected children were brought together for a day of fun activities and entertainment, at Shangri-La Hotel, Colombo. Also present at the event were popular musicians and representatives from the Catholic Church who all contributed towards this cause.
Fr. Prasad Harshana, who spoke about how children should come together to create hope and reshape the future of our country, said, "There are rich and poor people in the world. What do you children refer to as poor? I've been to all of your houses. I know all of you personally. I know you have economic hardships, but would you accept it if I told you that you aren't poor? Real poverty is not having a dream. Everyone who has a dream is still rich. All these lovely kids had beautiful dreams. If it is darkened by the actions of a person who cannot dream it, you must be strong enough to revive it. Become the type of people this country and world needs. You have the task of making the world a safer and better place. You need to be prepared to make your dreams a reality and commit to it. We believe you have the strength to do so."
Surprising the gathering, singer Sanuka Wickremasinghe joined in during a performance by an attendee and was subsequently joined by artists Bathiya and Santhush, further enhancing the experience for participants. During the programme, the children excitedly took part in sing-alongs and spent the day with their music idols, which was a whole new experience for them.
Speaking of his childhood dreams, singer Bathiya Jayakody said "We all have different kinds of difficulties, but the challenge is to overcome them. That is the real victory. Our childhood and youth were spent amid a terrible war, but we did not let it hinder our dreams. We worked hard to make our dreams a reality. There was only one thing we had — victory, because we had nothing left to lose. There was no place to fall. We were at the lowest level. Only place left to go was to the top. So, like us, you must commit to making your dreams a reality."
The children were excited to share their dreams with their beloved stars, and singer Santhush Weeraman, commenting on the dream of a young boy, said, "I wish all your dreams come true. I think we should talk about one more dream here. That's the dream to be an entrepreneur. Today, a successful entrepreneur is an asset to the country. Often, we see a businessman as a money-maker, but that's not the case. A successful entrepreneur looks for answers to overcome social issues. The answer may be a product or a service. Through this, he causes a positive social impact. The first goal of an entrepreneur is not to make money but to identify and address the real needs of society. Its success will make a difference in your future. Therefore, first, you need to identify who you are."
Parish Priest of St. Anthony's Church in Kochchikade Rev. Fr. Jude Raj Fernando said, "Children are our future. It is our responsibility to create a safe environment for them. That unfortunate incident of the recent past has lost us that sense of security, and the shadows of that horrible memory still exist in their minds. These programmes are essential to reduce the stress these children experience, to normalise their minds and their lives. I extend my sincere gratitude to all children who attended the event, Dialog Foundation's Rally to Care initiative and the Shangri-La Hotel, Colombo as well as to all who participated today."
The Shangri-La Hotel, Colombo and Rally to Care initiative delighted the group of children with a star-class experience along with multiple interactive and entertaining activities to provide them with the inspiration needed to secure their dreams.
The Rally to Care initiative together with its partners World Vision Lanka, Sarvodaya, My Doctor, Vision Care and Ratmalana Audiology Centre, will continue its relief disbursement efforts and its mission of providing immediate term out-patient support for victims of physical disability & trauma, long-term educational support for more than 500 children, and psychosocial rehabilitation for more than 250 families that were affected by the tragic incidents of 21st April 2019.
Visit http://dialogfoundation.org/rallytocare for more information and further updates on the Rally to Care initiative.
Posted on August 13, 2019